Find the Value in Your Scraps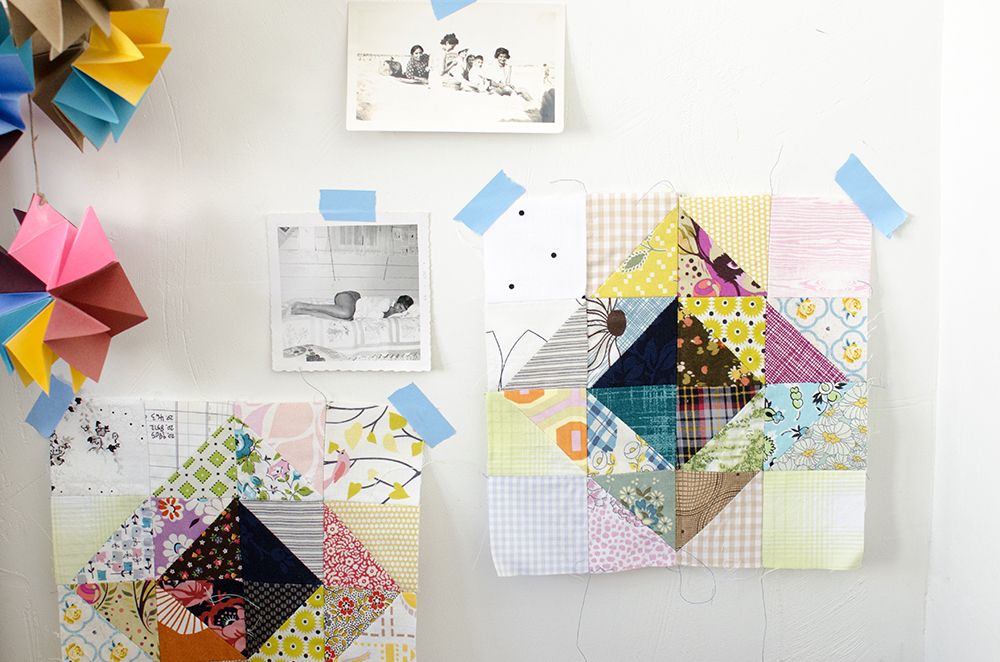 Find the Value in Your Scraps
October 19-20 2019
10 am- 4 pm
$30 Kit fee
Description
Bring your scraps and prepare to have some fun! In this dynamic, in which Blair will guide students through how to use dark, medium, and light color value. It's a fun way to rediscover all that fabric you have languishing on those shelves, and by the end of the class, you will be looking for even more scraps! Students will learn to make half square triangles and charm squares, then combine them to create a quilt design by "blindly" choosing from pre-sorted value piles. Blair covers "Patchwork 101" - efficient and safe rotary cutting, measuring, using a design wall, and general patchwork skills.
Supply List
- Kit fee- $30 (Includes a Ruby RulerTM and a Complete Quilt Design Planner Pattern
Booklet) Supplies Needed:
● Scraps of lots of different print fabrics from your stash. It is better to bring a 1⁄2 yd or less of many than larger cuts of just a few. Think of this as the perfect chance to use prints in your stash that have been languishing there too long. Also think of it as a chance to use those prints you adore but don't yet have the perfect project for (you can use a little bit of those in this project and still save the rest. I guarantee you will be delighted every time you see them in the finished quilt!)
● Neutral/coordinating thread for top thread and bobbin.
● A fresh needle in your machine
● Patchwork or 1⁄4 inch presser foot
● Rotary cutter, cutting mat, and cutting ruler
● Pencil
● Pens
● Supply kit needed for the class- $30 (see above)
Artist Biography
Blair designs modern quilts often using beloved, vintage, and cherished fabrics. Growing up in North Carolina, she learned the artistry of domestic handwork from her maternal grandmother, who did every type of needlework imaginable, except quilting. Her professional career as a textile and clothing designer and merchandiser solidified her love of beautifully made fabric and the power it had to tell stories through the colors, patterns and shapes of seasonal lines. When her first child was born, she turned her focus inward, towards creating a comfortable home and being a mom. But her creativity that was once nourished in her design work was suddenly missing. She found it again when she began cutting beautiful fabric up into little pieces and stitching them back together. Everything about quilts was exciting to her- the colors, patterns, and shapes she missed were all right there.

She currently lives and works in Seattle, Washington with her husband, teenage children, and a spoiled cat named Gracie who often reminds her to use fabrics in stacks before she can fall asleep on them. She teaches and lectures everywhere, as well as teaches online classes at her website. She can be found online at https://wisecrafthandmade.com
Cancellation Policy and Refunds
WMQFA reserves the right to cancel any program up to 10 days prior to the event. When WMQFA cancels the workshop, lecture or event, students will receive a full refund. When WMQFA cancels a program due to extreme weather, every student will be notified, and if the program cannot be rescheduled, refunded.
In the event that you are unable to attend a program that you registered for, please request a refund 30 days prior to the program. For refund requests made 30 days prior to an event, a full refund less $25 will be provided, or you may apply your full costs towards another workshop or program. For classes over $250, a non-refundable fee of $100 will be assessed to any cancellations instead of the $25 fee. WMQFA is unable to offer refunds for programs with a $25 or less cost. While WMQFA is understanding, "no-shows" will not be refunded. No refunds will be given within 30 days.
Class transfers may occur up to 30 days prior to the class provided it does not cause the class to drop below the minimum for operation. Individuals are also welcome to send a friend in their place at no additional cost instead of a cancellation or transfer, and this can be done at any time.
If you have any questions about the cancellation policy, please contact the Education Coordinator at education@wiquiltmuseum.com.