Fabric Images with Susan Carlson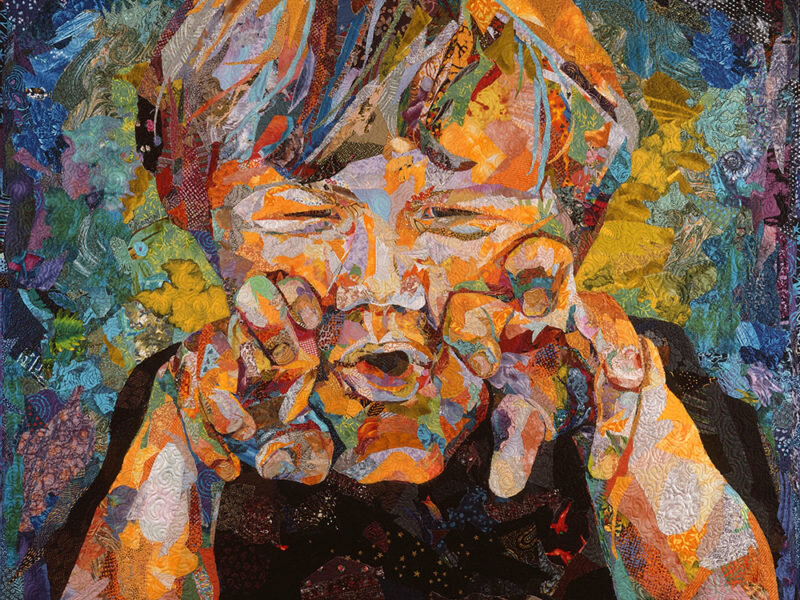 Fabric Images with Susan Carlson
Price Non-Member $975 (Deposit $250 * nonrefundable)
Member $925 with membership code (Deposit $225 with member code *non refundable)
*Final class payment due by August 15th 2020*
November 2nd- 6th 2020 9 am-4 pm (each day)
Description
Create a fabric collage quilt of your own chosen subject using Susan's innovative layering/collage method. Individual design, fabric selection, construction, borders, and quilting will be discussed. Emphasis will be placed on the collage piecing process. Students will draw their design onto a foundation fabric and fill in the design with fabrics of their choice—without the use of templates. For about an hour each morning, Susan starts with a discussion and demonstration that will lay out the basics of fabric collage and will give you the information you need to start your work day. She then visits each student in turn to address individual needs and their project's unique challenges.
Supply List
Required
• FABRIC in a variety of colors, prints, and sizes. Scraps that you might normally throw away, work as well as larger pieces (fat quarters and up). The more variety the better, fiber content may, and can, vary. SPECIAL EMPHASIS ON FABRICS WITH PRINTS OR PATTERNS IN THEM—especially "organic" shapes such as flowers, leaves, swirls, etc.. Batiks work especially well as there is usually a value range (light to dark) in addition to the overall design. Fabrics by designers such as Kaffe Fassat and Jane Sassaman are also fun to work with. Solid colored fabrics or those with gradual color gradations don't work well in this technique. • FOUNDATION FABRIC. Any inexpensive neutral colored fabric (like muslin)—a regular weight that you can glue to but light enough so that a photocopied pattern can be seen through it. It should be large enough to more than cover the base of your project. • TULLE (Bridal Illusion) in a variety of colors, especially black and a color or two to match your color scheme—size to match your project. • AILEEN'S TACKY GLUE (original version) or other water soluble, non-toxic, craft or fabric glue. I like a glue that has some body to it (it won't seep through the fabric easily) and that dries flexible (some white glues are made to dry stiff). • FABRIC SCISSORS—different sizes or styles may be helpful. Larger for the straight cuts, smaller for detail cutting. I find those pelican-BLADED applique scissors nice for cutting around curves. • Permanent MARKER, such as a Sharpie. • Straight PINS.
Optional but Helpful
• NETTING and other translucent fabrics—various sizes, colors, weights, and designs to play with. • My BOOK: Serendipity Quilts: Cutting Loose Fabric Collage (will be available in class), presents the cutting loose process. • A PHONE or DIGITAL CAMERA, REDUCING GLASS (looks like a magnifying glass), or a PEEP-HOLE from a door (find at a hardware store). Any of these will reduce the image you are looking at and allow you to assess how your work is progressing from a different perspective. • TWEEZERS or STILETTO (I don't use them, but many students do and are happy they brought them). • Table LAMP . • Foam core BOARD to work on and possibly to transport work-in-progress.
Optional Only
• In a multiple-day class, it is rare that someone gets to the quilting stage, most will still be collaging (I'd be in that group!). So, use your best judgement on how fast you work and how easy it is to travel with your machine. If you really want to, bring it just in case. In which case, please add: • A SEWING MACHINE that can be set up for free-motion machine quilting—including the correct presser foot (refer to owner's manual if needed). • BACKING FABRIC to match size. • THIN COTTON BATTING to match size. • SAFETY PINS for basting. • A variety of THREADS for quilting. I particularly enjoy using rayon, variegated, or other specialty threads. • A ROTARY CUTTER, cutting MAT , and cutting RULER.
4-Day or More Fabrics Images Materials List Addition
SUBJECT MATTER: PLEASE EMAIL ME FOR PRE-APPROVAL OF THE PHOTO OR DESIGN YOU WISH TO USE. I also recommend a second design as a "Plan B" fallback option. MY EMAIL IS: susan@susancarlson.com. Additional designs (fish, sun/moon, sea-turtle, gecko) will be available for $3–$5. See my website for examples. If you have any questions whatsoever, please email me at susan@susancarlson.com. Thanks! In case you need to draw or adapt your design: • TRACING PAPER—"tracing vellum" if possible • Sharpened PENCILS or MECHANICAL PENCIL • Clear TAPE (may or may not be needed)
About Susan Carlson
I've been creating art with fabric since 1983 while attending the Maryland Institute, College of Art. There, I used any excuse I could to use fabric as an art medium for my illustration assignments. I painted on fabric, inked, dyed, drew with thread, did traditional piecing, appliqué and reverse appliqué. My influence was my mom, who trained as a dressmaker and seamstress. From her I inherited my love of fabric. I think it's the tactile nature of it. My husband has more than once noted that when I shop for fabric, my hands are as busy fondling fabric as my eyes are drinking in the pattern and color.
As I continued to experiment with fabric for a few years after college, I yearned for something more immediate, more like painting and less like construction. In 1990 I drew on my collage skills, though this time with fabric and not paper, though still using glue. Since I had approached quilting from an art direction rather than a traditional one, I didn't realize how out-of-the-box gluing fabric was. A true quilter was not supposed to glue. But that's what I did, and I've never looked back. And there's even raw edges! As you may have figured out, I don't worry too much about what I'm not supposed to do.
I grew up in a crafty household with parents who like to "figure things out" and made things to sell. My mom sews and my dad does woodwork. The first decade of my career (the 1990s) I spent a lot of time making small quilts—16 x 20 inches or so—to sell. My first ones were mostly of fish—I must have made a thousand of them. I started to teach my fabric collage process in 1994 and slowly the teaching overtook the production of pieces for shows or galleries. These days I concentrate on making the quilts I want to make, usually for myself, unless they're commissioned. I make on average one big quilt a year allowing me to put a lot of myself into every piece. They're not usually for sale, but I do submit them into quilt shows, and use them as examples for my teaching.
By the end of 2016, I will have spent fifteen weeks teaching. For a homebody like me, that's a lot. I try to limit teaching to one week per month on average. But between prepping for a trip, travel, teaching, and recovering from a trip, each week of teaching actually uses up about two weeks of my time and energy. Which helps to explain why the remainder of the year I want to concentrate on my own work.
Fabric Collage
How do I do what I do? The way I approach it is to treat bits of fabric as dabs of paint. I cut pieces of fabric freehand (or use scraps as I find them) and use craft glue (Aileen's Tacky Glue) to tack the fabric in place. That's really all there is to it. Often creating an image involves layering one fabric on top of another, sometimes using translucent tulle or other netting, until the desired effect is achieved. I free-motion machine quilt using a Bernina 1530 home sewing machine.
I don't use templates. I refer to photos to create a sketch onto plain fabric—flannel or muslin, for example. I then fill in the sketch with those bits of fabric. If I'm doing an animal, I may start at the head, since that's the most expressive part. I like to play with color, often ignoring "natural" colors, but I pay strict attention to value. Darks and lights, highlights and shadows. Value is what gives the piece form.
Occasionally the background of an image will be one solid piece of fabric, but most often I continue collaging into the background as well.
Cancellation Policy and Refunds
WMQFA reserves the right to cancel any program up to 10 days prior to the event. When WMQFA cancels the workshop, lecture or event, students will receive a full refund. When WMQFA cancels a program due to extreme weather, every student will be notified, and if the program cannot be rescheduled, refunded.
In the event that you are unable to attend a program that you registered for, please request a refund 30 days prior to the program. For refund requests made 30 days prior to an event, a full refund less $25 will be provided, or you may apply your full costs towards another workshop or program. For classes over $250, a non-refundable fee of $100 will be assessed to any cancellations instead of the $25 fee. WMQFA is unable to offer refunds for programs with a $25 or less cost. While WMQFA is understanding, "no-shows" will not be refunded. No refunds will be given within 30 days.
Class transfers may occur up to 30 days prior to the class provided it does not cause the class to drop below the minimum for operation. Individuals are also welcome to send a friend in their place at no additional cost instead of a cancellation or transfer, and this can be done at any time.
*Class deposits are non-refundable*
If you have any questions about the cancellation policy, please contact the Education Coordinator at education@wiquiltmuseum.com.