Fiber Arts Jacket Workshop with Mary Sue Fenner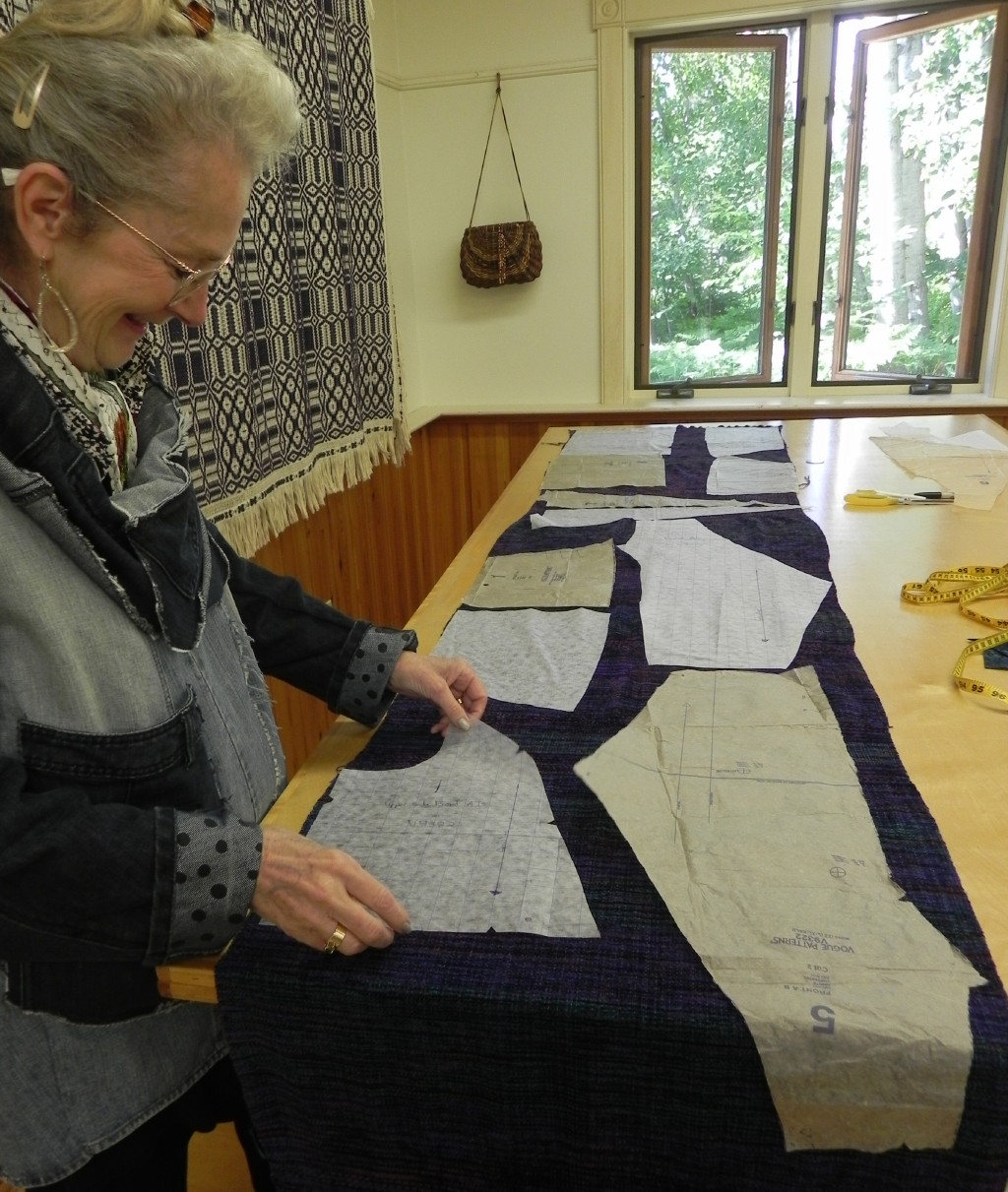 Fiber Arts Jacket Workshop with Mary Sue Fenner
Fiber Arts Jacket Workshop
Taught by Mary Sue Fenner
Friday - Sunday, January 17-19 , 2019
9 a.m. to 4 p.m. each day
Price $220
Member price with discount code $195
Mary Sue is returning for a three-day fiber arts jacket construction workshop. Each student will make a unique jacket using a pattern fit to their body. Mary Sue will teach sewing and finishing techniques to create a one-of-a-kind wearable art jacket. Her trunk show jackets will be available to try on for inspiration. Basic sewing machine knowledge is required. Mary Sue will help each student personalize their jacket fitting.
sold out
Supplies
Jacket Patterns- purchase using bust measurement for size. The pattern size has no correlation with retail sizing. You may bring more than one pattern.
Mary Sue uses Vogue patterns most often but you may choose any jacket pattern that fits your bust measurement. Here are some of her favorite Vogue patterns:
V8798 V8757 V1264 V1127
V8861 V8860 V8804 V8838
V8777 V1212 V8693 V8713
V7975 V8539 V1213
When viewing the pattern, look at the back of the envelope, to see the basic shape of the item. Some of these are very easy to sew; others are more of a challenge.
If you have patterns that you are not sure of, email her the number at marysue@bayland.net and she will give you her opinion.
Fabric- 3-5 yards fabric, may be commercial, hand felted, hand woven, dyed, printed, embellished, etc. 1-yard iron on interfacing, lightweight. Lining if it is required.
Sewing machine* and serger (if you have one), sewing manual, extra bobbins, needles, thread
Pattern Trace fabric 3 yards for pattern alterations
Tools- shears, marker, ruler, scotch tape, long pins, weights and task light if student has them, other basic sewing supplies, extension cord.
About the Artist
Mary Sue Fenner received broad training in fiber arts, first as a Clothing, Textiles and Design major at the University of Wisconsin-Stout, and later in England, Kansas and UW-Milwaukee. Mary Sue is an instructor at the Northeast Wisconsin Technical College, and has taught her One-Of-A-Kind Jacket class at the Sievers School of Fiber Arts for many years. She is noted for use of bright colors and her own handspun yarns. Mary Sue's clothing and accessories can be seen in area shows, galleries and shops, and have been featured in Handwoven, Shuttle, Spindle & Dyepot, Belle Armoire, Altered Couture, Sew Somerset and Haute Handbags magazines. She recently won the HGA Award at the Wisconsin Handweavers, Inc's "Loominosity" and teaches seminars in weaving, sewing and jacket construction.
Cancellation Policy and Refunds
WMQFA reserves the right to cancel any program up to 10 days prior to the event. When WMQFA cancels the workshop, lecture or event, students will receive a full refund. When WMQFA cancels a program due to extreme weather, every student will be notified, and if the program cannot be rescheduled, refunded.
In the event that you are unable to attend a program that you registered for, please request a refund 30 days prior to the program. For refund requests made 30 days prior to an event, a full refund less $25 will be provided, or you may apply your full costs towards another workshop or program. For classes over $250, a non-refundable fee of $100 will be assessed to any cancellations instead of the $25 fee. WMQFA is unable to offer refunds for programs with a $25 or less cost. While WMQFA is understanding, "no-shows" will not be refunded. No refunds will be given within 30 days.
Class transfers may occur up to 30 days prior to the class provided it does not cause the class to drop below the minimum for operation. Individuals are also welcome to send a friend in their place at no additional cost instead of a cancellation or transfer, and this can be done at any time.
If you have any questions about the cancellation policy, please contact the Education Coordinator at education@wiquiltmuseum.com.